Paragon Alliance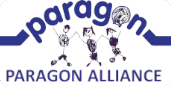 Welcome to Paragon Alliance's page.
Paragon Alliance is a partnership of schools and other appropriate organisations lead by Hampton Hargate Primary School. If you would like to find out more or what it offers, please click on the link to go to our website: https://paragonalliance.co.uk
Our aim as Paragon Alliance is to build upon the collaborative working practice and opportunity which already exists amongst schools. We want to work together to share ideas, strategy and provision wider to benefit all of our pupils. We are committed to investing in the training and development needs of colleagues to help them achieve their very best.
We look forward to working with you and hope that your school/academy will consider joining and working with us.